"One ought, every day at least, to hear a little song, read a good poem, see a fine picture, and, if it were possible, to speak a few reasonable words."
― Johann Wolfgang von Goethe

Goethe is talking about art as a great joy of life. Indeed it is, in all its manifestations. Art provides the moments duri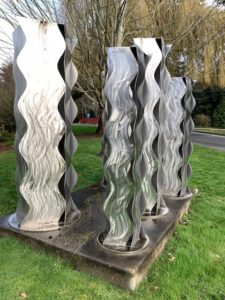 ng a day that you treasure at the end of it and if you are lucky, beyond. In any event, encountering art changes your relationship with the world. Your blood pressure drops, you slow down, you reac
h out to touch something that calls you, and an unlovely, unspoken comment remains unsaid. Art really does make you a better person.
If you are coming to the Secret Gardens of Lake Forest Tour in June, you will know you are going to see nature's art fashioned by a gardener—or more precisely six gardeners. But before you set off to do so you can stop by at the market based in the Commons at Lake Forest Park and see what kind of art is inspired by gardens.
In 2020 we will have artists with goods for sale on the day of the tour. Many of their offerings can be added to a home garden to give it splendor. Sandi Staples of Blue Raven Glassworks will have an array of items fashioned with glass, particularly her garden-stones featuring the birds and flowers we find in our yards. They will remain when the real ones have to take refuge from the cold.
Stacy Murphy from Earth and Clay Pottery will be featuring her bowls and small dishes made from the very earth in which we plant our gardens. Many have imprints of leaves and are elegant in their simplicity, not to mention useful.
Scott Wampler of Four Cedars Studio is an artist who dabbles in a range of goods you would be happy to have in your yard: bird boxes, feeders and charming tea lights. It goes without saying that all come with their own magic.
Perhaps the best part is that buying art from a vendor means you are buying art for the public.
It goes like this… each year some of the profits from the Secret Garden Tour of Lake Forest Park are tucked away to be used in the fullness of time to hire an artist to make a piece that will enrich our town. Lake Forest Park has acquired one such sculpture by virtue of the Secret Garden Tour. Rodger Squirrell's Five by Five sculpture was installed in September 2011 in honor of the city's 50th anniversary. Having it on the corner makes for a pleasant wait at the lights!  In addition, the 'Tour' made a substantial contribution to the Blue Heron Bridge.
We do hope you will be able to join us June 20th at the garden tour and will take a moment to buy something before you set off. It is enchanting to know that your art purchases are goin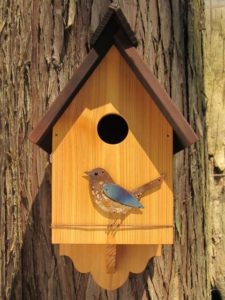 g to sustain yet more art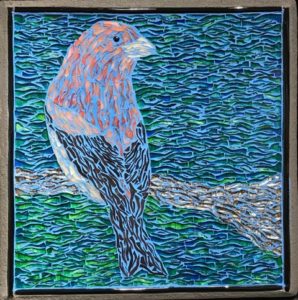 The images are of works from Four Cedars Studio and Blue Raven Glassworks.