17th Annual Lake Forest Park Garden Tour & Market June 15, 2019
The Secret Gardens of Lake Forest Park Garden Tour & Market is an opportunity to peek behind the gates of some of the best gardens in the North end.  Every year garden scouts look for gardens to delight visitors.  This year the gardens are amazing.  Each garden provides a look at creative ways to imagine gardening.  The gardens include a plant collector's haven, a contemporary garden with innovative solutions, one with enticing garden rooms, another that shows off a natural woodland with plantings from Heronswood.  The gardens have tucked-away treasures, artwork and unique sheds that serve the dual purposes of storage and art.
Purchase your ticket in advance for $15 or at the door for $20. Buy your tickets here.
Visit the ticket table at LFP Town Center on tour day to exchange your advance ticket for a map to the gardens.
The Awesome Gardens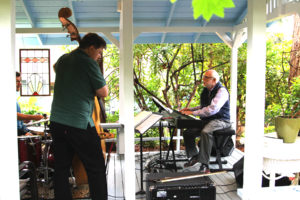 The self-guided tour will take you to six gardens all in Lake Forest Park.    
Each garden will host musicians, artists, and master gardeners to enhance your visit.
The Plant and Garden Art Sale
The lower level of the Town Center will be transformed into a plant and garden art market.  Local nurseries will be selling flowers, shrubs,  and greenery that will thrive in our gardens.
Garden artists will have their art available for sale, too. Whimsical birdhouses, mosaic artwork, garden pottery, mason bees, and more, all designed to make your garden more beautiful while harmonizing with your natural garden environment, will be available for purchase.